SpeedVPN Free VPN Proxy
1.6.0
An Easy to Use and Direct Free Proxy
Internet censorship has become an increasing trend in this day and age. Governments have started to block access to certain websites and internet platforms based on arbitrary guidelines and prohibitive agendas in order to restrict their populations from accessing the World Wide Web in all its independent glory. You can't control what becomes available on the internet and this is why governments are controlling the traffic that emanates from their country. Websites are restricted by governments through IP addresses as any IP address originating from the country simply doesn't get access to blocked websites. However, VPNs are changing the game by allowing access to anything and everything over the web. With free VPNs like SpeedVPN Free VPN Proxy, you can still gain access to all websites regardless of where you live.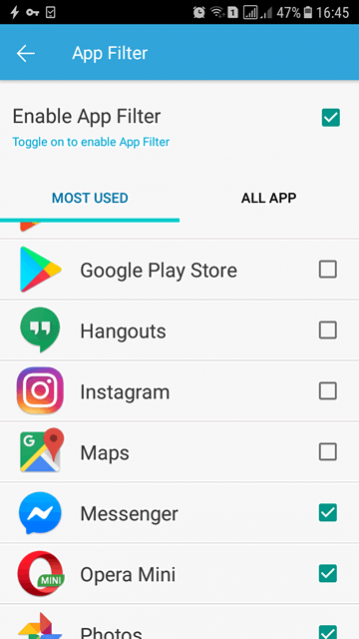 VPNs have ensured that you can anonymously surf the web without fearing for leaving any trace and without fearing for being tracked by any government agency or by any internet website as well. Free VPNs like SpeedVPN mask your originally IP address and provide you with a different IP address of a different country by connecting you with their servers in that particular country. The science behind VPNs works well and it's a very actively used service all around the world.
SpeedVPN is a solid VPN app and its minimalistic design is great. It gets you right down to business from the get go. The app does ask for unusual permissions like the permission to make phone calls and to access your media. However, it is not necessary to provide these permissions to the app in order to run it. The app shouldn't ideally not ask for them but the fact that they aren't necessary permissions is a relief in itself. The app does require permission to ensure that its working is not hindered in the background and this is one permission that you will have to grant.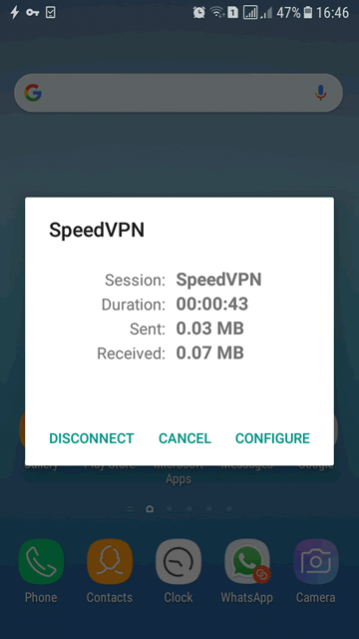 Once you are done with navigating the app's access requests, you can start the process of turning on the VPN. It takes anywhere from five seconds to a minute for the app to connect but once you will be connected, you can easily surf the web anonymously and access any website you want. The app does work for all kinds of websites. The thing to take note of is that SpeedVPN would only be able to work in countries where the VPN itself hasn't been banned. If the VPN is banned itself then it won't work. However, if the SpeedVPN does end up finding a connection, you can rest assured that you would be only to unblock any blocked website and easily access it whenever you want.
The app has a cool background widget which keeps playing on your homepage which shows the duration for which you have been connected using the free VPN and the amount of data sent and received during the period. It is obvious that your connection would slow down a bit but the reduction in internet speed isn't normally noticeable with SpeedVPN.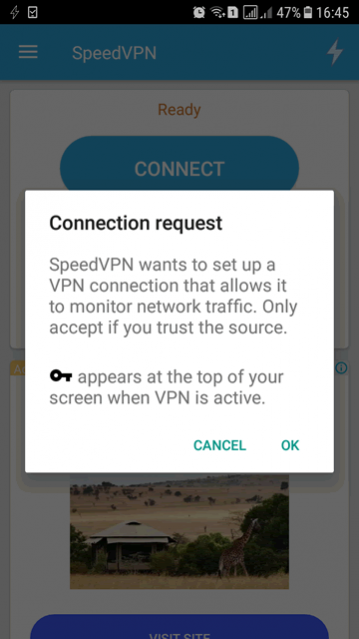 The free VPN app also has an app filter that lets you filter out the apps in which the SpeedVPN connection would be used. You can uncheck the apps which you don't want to be working with the VPN. This is especially great if you normally stay worried when using a VPN about your personal data getting stolen.
Features:
Minimalistic design with a simple and easy to use interface
Very easy to connect with a VPN connection
Solid and reliable connection that unblocks every website
Great background widget to keep you updated with the time for which you have been using the VPN
Nice App filter feature
Conclusion:
SpeedVPN Free VPN Proxy is the kind of app which is a must have for people who are living in countries with internet censorship or who are traveling to countries with internet restrictions. With fast accessibility and reliable connections, this app is really useful. All you have to do is to keep your head while granting it only permissions which seem necessary.
---
Add a review
Tell us your experience with
SpeedVPN Free VPN Proxy
1.6.0
RELATED PROGRAMS
Our Recommendations
---
---
---
---